Welcome to Accommodation Painting Ltd.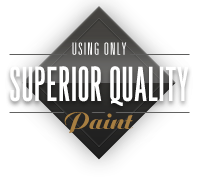 Accommodation Painting offers Calgary and the surrounding areas with a wide variety painting options, including custom interiors, repaints, exteriors, new construction, small to mid-range commercial projects and in-shop work that preformed only by highly skilled, professional painters. Project time lines range from one day to multiple month contracts. Our company reputation is built on our highly skilled and knowledgeable tradesmen, our devotion to customers, our business integrity and our mandate to exceed the expectation of our clients.
Going Green
We believe its not enough to just do an amazing paint job on your home. We take responsibility for the products we bring into your home. Panting has been associated with dangerous and harsh chemicals that are bad for both the environment and the homeowner. Many of the older paints contain harmful chemicals that are associated with diverse health concerns. Accommodation Painting takes the safety of our homeowners and crew very seriously and has done extensive research on new-aged products that are eco friendly and have low VOC.
VOC are volatile organic chemicals which have a wide range of negative effects, including cancer, respiratory problems, nausea, kidneys and liver damage. Once the paint is applied and starts to dry, the VOC levels in your house will increase by 1000%. While this number will gradually drop as the paint dries, the paint will continue to let of these harmful chemicals for over a year after application.
It is very surprising that, next to car emissions, paint is a close second for harming our environment. With the new paint technology of today, there is no need to harm ourselves and our planet. Accommodation Painting is committed to using low VOC paints to make your homes, and the world we live in, a more environmentally friendly habitat.